Responsible Tourism
As NASA's Voyager 1 spacecraft was about to leave our Solar System in 1989, Carl Sagan, who was a member of the mission's imaging team, pleaded with officials to turn the camera around to take one last look back at Earth before the spaceship left our solar system. The resulting image, with the Earth as a speck less than 0.12 pixels in size, became known as "the pale blue dot." Sagan later wrote "Everyone you love, everyone you know, everyone you ever heard of, every human being who ever was, lived out their lives on a mote of dust suspended in a sunbeam." And for the time being this pale blue dot is the only home we have. It is time to understand, time to change, time to act.
We are actors in the world of travel, at the same time we want to be protagonists of sustainable tourism, creating awareness among our guests and contributing in saving our planet through some simple tangible acts. Your next event not only will help flourish and consolidate local tourism and businesses but will truly leave a lasting impact on our planet for future generations. Rome wasn't built in a day, but we can help to build a better future everyday.  This is our engagement for a sustainable tourism, together we can achieve more.
On a daily basis:
– We minimize the use of paper
– We recycle all office waste
– We donate our old equipment
– We heat the minimum necessary
– We avoid plastic bottles
– When possible, we privilege the use of trains for our local travels
Group Events – our actions
– A light-weight aluminium bottle with optional branding, will be given to each participant upon arrival and be used and reused throughout the entire program (and beyond)
– We will create eco-friendly programs, empathetic with nature, well-being activities, hiking and biking, thus limiting the maximum the use of vehicles
– During our events and specifically for team building activities, we work with partners that care…
TreeDom
Three trees are planted for each guest and guests can then follow the growth from remote.
Rise Against Hunger
Meal packaging program is a volunteer-based initiative that coordinates the assembly-line packaging of highly nutritious dehydrated meals comprised of rice, soy, vegetables, and 23 essential vitamins and minerals.
Grove
When we need a gadget, may it be an a eco- bottle, a head-gear, a t-shirt we favour the  services of Grove – a nature-inspired Swiss-based brand striving to protect the natural ecology of our coastal wetland habitats and mangrove ecosystems. GROVE pledges to plant two mangrove seedlings for every product that is purchased, representing that individual's contribution and commitment to the planet.
Gala dinners
Focused attention, in tandem with local associations, in giving the untouched aliments from restaurants and catering to the people in need. Flower decors are replaced with a decorative image and text explaining that instead of flowers, the equivalent in cash has been donated to charity. Waste is strictly sorted and recycled.
Beach/lakeside events
We strongly recommend a day dedicated to team building activity such as cleaning beaches or lakesides of plastic and other materials. For more cerebral activity, with the help of professionals, we will build 'your personalised' beach village. Teams construct their chosen project that will be part of the final fun area – a play haven for the local children.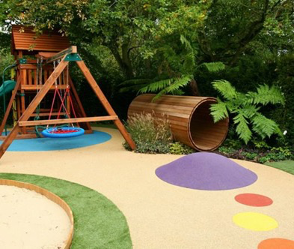 Mountain/Forest events
Differently from TreeDom, we identify an area where guests feel motivated in planting trees, wood sculptures, insect nests or building a log cabin to be used as a future school refuge nature school.
Children /Elderly Aid
For schools in need, for care homes, children institutions, we organise team building activities such as creating a playground or BBQ area, painting walls, delivering equipment. We can organise a special "Fair" day for children or elderly where they get to win eco-friendly prizes and are entertained throughout.
Teddy Bear Challenge
An informal ice breaking event, simple and yet rewarding for those who receive the teddy bears and for those that contribute to making them.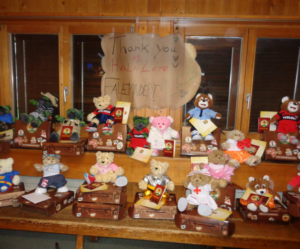 Future project
Plans are being put in place to distribute 1% of our total turnover directly to a school or a hospital in an African country – the donation can be per single project so that the donation is discussed directly with the client.